Outpost Plan
In addition to being one of the most beautiful lakes in northern Manitoba, Kamuchawie has also earned the reputation of one of the most productive Northern Pike and Lake Trout fisheries in the northern half of the province. The remarkable combination of shallow water bays and sharp dropoffs intersected by several open water reefs and islands create a breathtaking combination of beauty and prime habitat. The addition of Secret Lake, a portage off the West side of Kamuchawie, adds a truly remarkable Walleye Fishery to our outpost package. Now our camp on Kamuchawie Lake has everything. If you are looking for a truley remarkable Northern Pike, Lake Trout & Walleye fishery, Kamuchawie has just what you are looking for.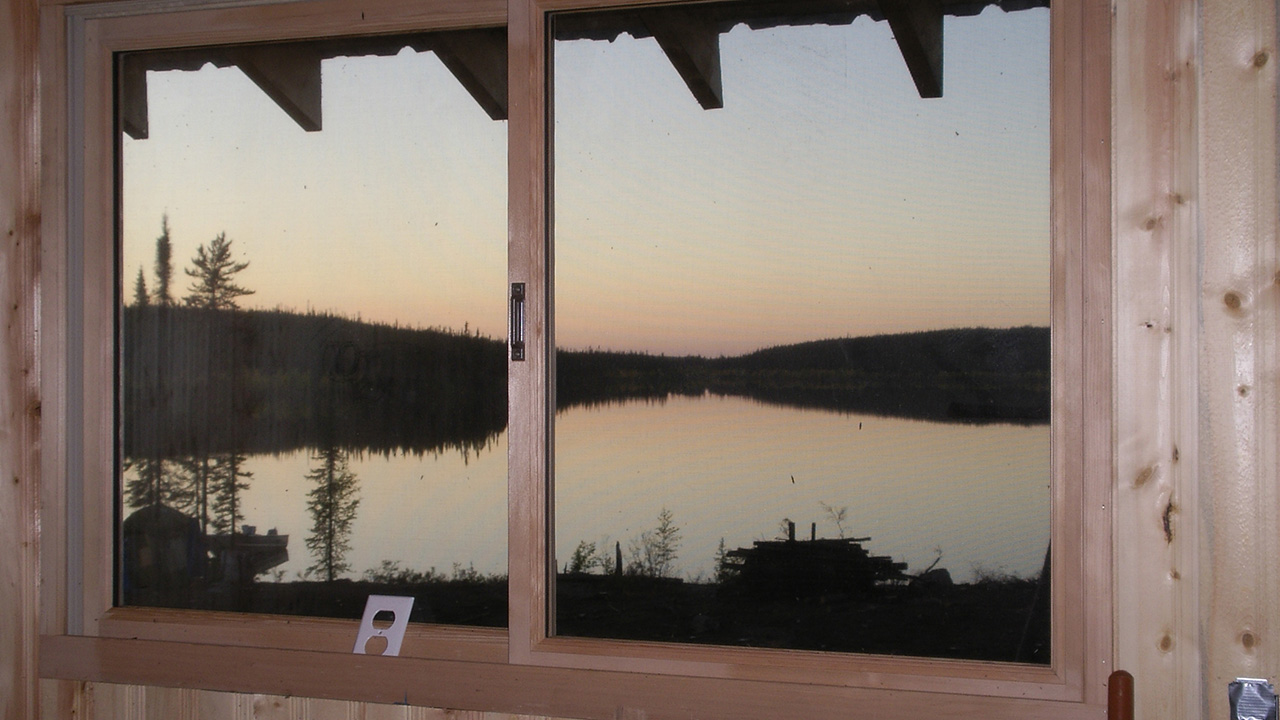 Outpost Plan Accommodations
On July 9th, 2005 our outpost camp on Kamuchawie Lake was destroyed by forest fire. Erin and I had a choice. We could sit around and stew about loosing a beautiful camp on a spectacular lake or we could put our noses to the grindstone and get busy rebuilding the place. The decision was not difficult. In typical Laurie River Lodge fashion we decided to rebuild and rebuild in a big way. The first step was to clear the burned trees away. After clearing away the dead trees we began construction on a new 24' by 32' ultra modern outpost cabin.
We have long envisioned having a nicer more modern camp on Kamuchawie Lake and this was our opportunity. We decided that if we were going to rebuild Kamuchawie Outpost we were going to build the most deluxe outpost in northern Manitoba. After the burned trees were cleared away it became obvious that moving the camp about 200 feet up the hill would offer an unbelievable view of the entire North end of Kamuchawie Lake. The early morning view from the 8' by 32' sun deck is nothing short of breathtaking. We also decided that today's fishermen – yes even outpost fishermen – are not quite as rugged as they used to be. The old bunk house and outhouse routine just doesn't cut it anymore.
With that in mind we built the new cabin with 3 private bedrooms, a fully modern bathroom and, most importantly, a self contained kitchen with refrigerator, propane freezer and 4 burner propane stove with oven. The propane barbeque on the front deck does a great job on steaks. A 24' deep sand point well supplies crystal clear water for the kitchen and a 40 gallon propane fired hot water heater supplies piping hot water for bathroom and kitchen sinks as well as the shower. A 12 KW generator provides plenty of power to run the entire camp and the Drolet Wood Stove keeps things cozy even on those sometimes chilly northern Manitoba nights.
We are running 16' Alumarine Boats with 20 HP Yamaha Motors. The fishing is exceptional for Trophy sized Northern Pike and Lake Trout on the main lake and Walley via a short portage to Secret Lake.
This is truly the most beautiful lake in Northwestern Manitoba. If you like to fish outpost camps now, more than ever, Kamuchawie Lake should be on your must fish list.
Professional Guides
In Keeping with traditional outpost theme, guides are not required at Kamuchiawie Outpost camp. Many outpost fishemen prefer to conquor the lake on their own and gain a special sence of accomplishment from learning what works best on a specific body of water.
However, like most lakes in northern Manitoba, Kamuchawie has hundreds of small backwater bays and several minor tributaries that can be easily overlooked, even by experienced anglers. The benifits and added safety of having an experienced fisherman / guide, who has spent years learning the secrets of a particular body of water, sitting in the boat next to you cannot be overlooked.
I strongly reccommend that fishermen, especially first timers, considering a trip to kamuchawie Lake also consider hiring a guide from our professional staff to show them around and furnish a few tips on catching the trophies. Guides are available from Laurie River Lodge for $250.00 / guide / day. We furnish furnish their food, accommodations and transportation to Kamuchaiwe Outpost.
Outpost Plan Food
Our outpost package at Kamuchawie Lake now includes a comprehensive food package. Since there is both refrigeration and freezer space available at the camp we do not need to worry about food spoiling and it is easy to include things like chicken, pork, milk, eggs and fresh vegetables in the package.
Guests that choose to drive to Lynn Lake and bring their own food package can deduct $40.00 / guest / day from the base price of their trip.
The 24' deep well provides crystal clear, ice cold drinking water and there is a outdoor Barbeque and fire pit for chefs who want to flex there skills at grilling and outdoor cooking.
Here is what is contained on our comprehensive food package. Items not included can be added it they are available in northern Manitoba.
Meats: Bacon, Eggs, Chicken, Cheese, Hamburger, Hot Dogs, Pork Chops, Sausage, Steaks
Canned Goods: Creamed Corn, Niblets Corn, Evaporated Milk, Assorted Fruit, Green Beans, Assorted Soups, Musrooms, Peas, Pork & Beans, Spaghetti Sauce, Tomatoes
Condiments: Pickles, Assorted Jams, Barbeque Sauce, Butter, Garlic Salt, Honey, Ketchup, Lard, Lemon Juice, Margerine, Relish, Mayonnaise, Milk, Mustard, Salt & Pepper, Seasoning Salt, Soy Sauce, Sugar, Syrup, Vegetable Oil, Vinegar
Dry Goods & Bread: Assorted Chips, Assorted Chocolate Bars, Assorted Cookies, Brown Sugar, Cold Cereal, Coffee, Corn Meal, Flour, Hamburger Buns, Hot Dog Buns, Hot Cereal, Hot Chocolate, Macaroni & Cheese Dinner, Minute Rice, Pancake Mix, Popcorn, Powdered Juice, Snack Crackers, Snack Puddings, Soda Crackers, Spaghetti, Tea Bags, White Bread
Fresh Fruit & Vegetables: Apples, Orange, Bananas, Onions, Potatoes, Tomatoes, Lettuce
Miscellanious & Paper Goods: Aluminum Foil, Candles, Dish Soap, Dish Towels, Garbage Bags, Matches, Mosquito Coils, Paper Towel, Plastic Wrap, Scouring Pads, Tea Towels, Toilet Paper, Toothpicks, ZipLock Bags
2019 Rates
4-Day Trip To Kamuchawie Outpost - From Winnipeg
Group Size
With Transporation
Without Transporation
2-4 Fishermen
$2650.00 / Person
$1850.00 / Person
5-8 Fishermen
or more
$2350.00 / Person
$1550.00 / Person
6-Day Trip To Kamuchawie Outpost - From Winnipeg
Group Size
With Transporation
Without Transporation
2-4 Fishermen
$3000.00 / Person
$2200.00 / Person
5-8 Fishermen
or more
$2700.00 / Person
$1900.00 / Person
8-Day Trip To Kamuchawie Outpost - From Winnipeg
Group Size
With Transporation
Without Transporation
2-4 Fishermen
$3350.00 / Person
$2550.00 / Person
5-8 Fishermen
or more
$3050.00 / Person
$2250.00 / Person
* Licenses, gratuities, beverages & applicable taxes are extra. Visa & MasterCard Accepted with 3% handling fee.


We would love to the opportunity to show you in person what we have to offer at Laurie River Lodge. Thank you for choosing to hunt and fish with us.
For reservations, please call
Brent or Erin at (800) 426-2533.